I was pointed in the right direction – pine trees, not too big but established, on a reasonable slope, and sent to look for ceps.
I didn't find any of those … but I did find some interesting mushrooms, which with the help of this key I identified with a fair degree of confidence.
The closest thing to an edible mushroom I found was the Peppery Milkcap – described as semi-edible, or otherwise as fairly horrible tasting but it won't kill you….
  The most interesting thing I found was this leathery-covered, remarkably heavy lump about 5cm in diameter.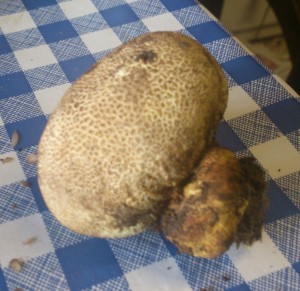 Cut open, it revealed a very dense, dark, earthy-smelling interior – certainly a truffle, although no idea if an edible one…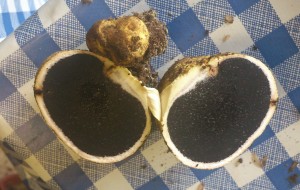 Also located were another milkcap that I couldn't confidently identify … but it turmed an orangey-red on the edges of the gills and the stem when first cut, then brown later.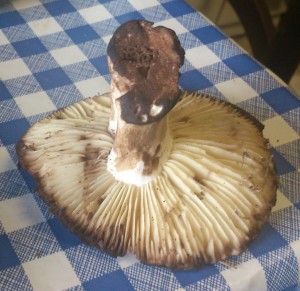 Also saw what I think is one of the most common mushrooms around here, Lactarius hepaticus, which I don't think anyone would think was edible, and lots of red, "bruise" blue-green and purple lactariuses – ditto.
Also found a number of eggshells – which looked like they'd hatched chicks – on the floors under the pines – good to know they aren't an ecological desert!