Saut de Gouloux in the Morvan National Park is a lovely spot where you could combine ice-cream, swimming, views and quite a bit of history. All in a lovely calm environment that just makes you want to sit with your feet in the water and chill.
What's not to like?
You can follow the short walk from the carpark (300m, or 800m if you go via the viewpoint) to the "jump", to go for the literal translation of "Saut" – a lovely, powerful waterfall of about 10m or so in height, formed during the Miocene, when the Alps were being pushed up, when the granite at the top and bottom of the wtaerfall slid against each other.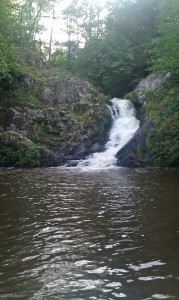 Below it is now an informal pool for swimming – not huge or deep, but enough to get thoroughly wet in, and to enjoy the "spa" effect of the force of all of that water.
To the side is a romantic-looking ruin, although actually it's only one of two 19th-century mills that were built to take advantage of the water's power). You can still see the remains of the mill race and the hole in the wall for the wheel's axle. One specialised in "turnip oil" the signage said … (Google seems to suggest it still exists, though not very often…)
Just downstream on this Caillot River, it joins the Cure.
The bridge over the Cure River, quite spectacular, is 18th century, and its construction was key to opening up this part of the Morvan – before there was only a footbridge.
Then there's the romantic story, which runs that in 1396 Lord Montenoison, taking advantage of the absence of the Count of Nevers, went to seek the attention of the beautiful Elvis. He failed, and on returning home found the bridge guarded by soldiers and the river swollen by autumn rains, so he rode upstream to the waterfall, where he set his steed to jump the gap. They made it, almost, but the earth beneath the horse's gave way. The horse still eventually made it. He didn't. (This Mr Google doesn't seem to be able to confirm…)
It's an ideal spot for a picnic – if you fancied getting away a bit you could follow the Caillot down through the pine forest (very springy underfoot), but there's also a restaurant here built on stilts above the bridge that does a lovely line in ice-creams. Definitely recomment the "intense cassis sorbet!"
* A useful PDF leaflet in English and French.