France has 15.5 million hectares of forest, the largest area in Europe. And while this is very much a human-shaped environment, it can be gloriously diverse. (And worth remembering that while the this is 80% forest now, early this century it was 50%, and in Roman times 30% …this has all been shaped and reshaped – and sometimes the traces are visible.
First on the road out of town, a dangerous resting point…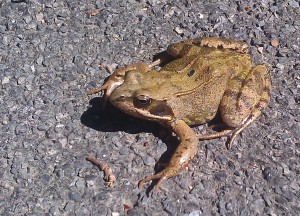 (You do see a lot of squashed frogs on the road, but you never seem to hear them…)
More biodiversity – on this single plant, a dozen insects, several large bees, a couple of beetles, some hoverflies…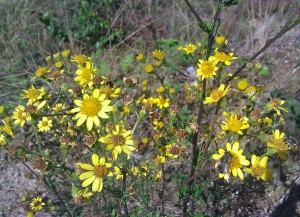 (Didn't manage to catch them all in one shot, but there's at least four insects there.)
Flowering in fields of mauve … this heath-like plant amidst recently planted pines.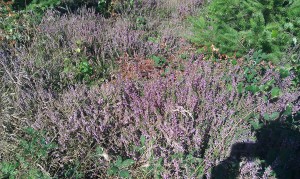 (There had been lots of blackberries here, but they'd been slashed down.)
And hard to photograph, but I'm pretty sure that at least one wild pig had visited the stream …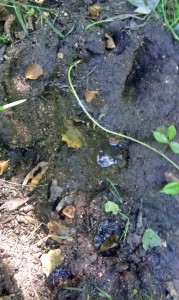 The mud was deeply imprinted — something heavy came this way. (And no it wasn't a cow – you're a long way from a cow here.)
And a lovely stream, classic Morvan ripples over granite, although hard to photograph in the shade…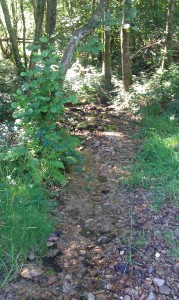 The road turns sharply uphill here, through a very old section – stone piled along its side with beech trees growing on top of it. The road is also a stream, and around the spring that is its source there's a wealth of moss, lichens and ferns – much faded now, but no doubt in winter they'll be back to full glory….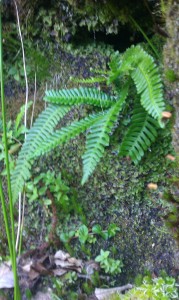 A bit of a steep climb, but a lovely view from the top – a range of forestry in action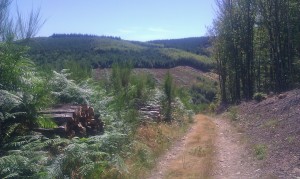 Turning across the hill, you're into fairly young deciduous forest, including this artistic beech…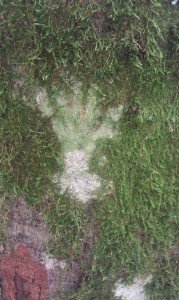 Then there's a sudden ecological shift to a mature pine forest – the ground underfoot is extremely springy, and the odd animal burrow seems like it could stay for a long time. In the middle is this nest of rocks – it feels very primeval, like some ancient beast should be sleeping within …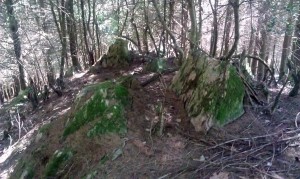 Perhaps it had been chewing at this pine – certainly something that taken out its base, and now it's half-fallen, trapped in suspension by its still-living fellows…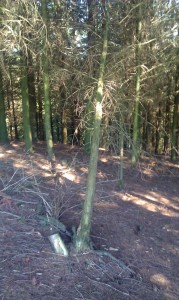 Then I'm back into beech, and this small piece of human history. Anyone able to date this car? (Admit it's in a pretty bad way.)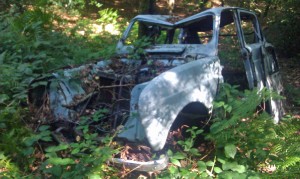 Although it should be possible to find out who once owned it…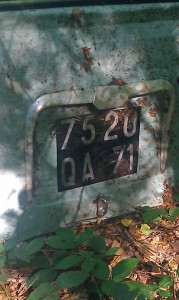 This is now old, perhaps centuries-old beech forest, with the characteristically wizen, folded, curved trunks – nature as sculptor….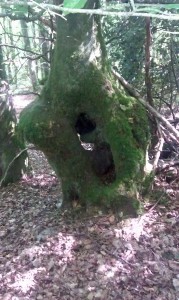 Beech really is a tenacious tree – when it gets knocked down, it just keeps coming back…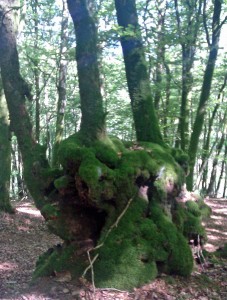 Back across the stream – still trickling gaily, then into more deciduous forest, maybe a couple of decades old and including quite a lot of oak, which may explain the profusion of fungal life.
A very yellow toadstool, pushing up through the pretty tight-packed road surface…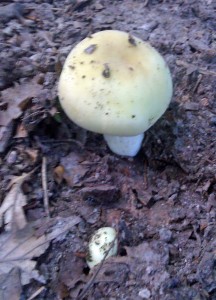 And another large and evily slimy example…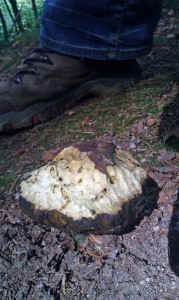 More signs of wildlife – definitely a deer track…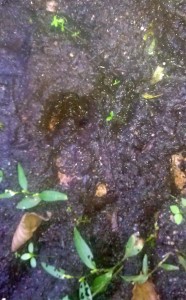 And then to this curious patch of clover in the middle of a pine forest – clearly a spring is dampening the ground, but I've never seen anything like it…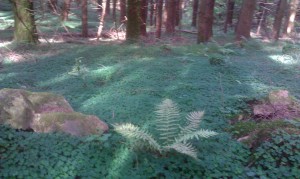 Here's a map tracing this walk.
Google reckons it is about a 6km walk – well-shaded for the most part for a hot day, and it took me about three hours with lots of dawdling to look at things, pick blackberries etc…