A good place to start this walk is the picnic spot beside the River Mechet, where there's limited parking, picnic tables, and trout to watch in the river and (in summer) dragonflies and damselflies to watch on the banks. To reach it walk downhill from the Cecile's (the cafe) with the baker on your right and the church on the left, then turn right past a magnificent kitchen garden, then left immediately after you go over the bridge and contine with the river on your left.
The walk proper starts from the picnic site, and the first part is very simple, just follow the river on the (unmade) road to Senavelle. (Do look out for the forest monsters – not dangerous – on your right.)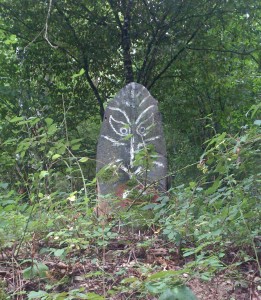 After Senavelle, there's a lovely rest spot with a great view back towards the village ….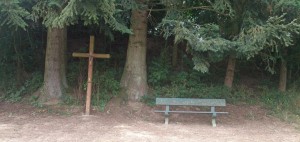 But if you can hold on a little further, it gets better. You'll get to a ruined mill (only really the mill pond and mill race remaining)
In the trees before that I heard a racket in the trees beside the path, and sneaking up saw this red squirrel noisily barrelling around in the canopy. It didn't really take to my presence – loudly yelling at me a call that sounded very like "go away!" (Taken with a cameraphone – a zoom would have been handy…)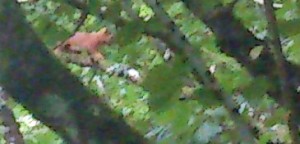 Just beyond a path will take you beside the lovely Etang de Bouton (lake) – although you're only allowed to go there if you're a walker or a cyclist …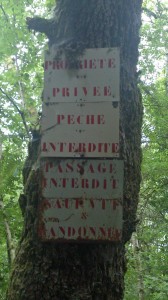 But swing instead right at the fork at the mill up the hill, then left at the next fork, which will take you around a large farm.
If you're lucky, a local will be resident on your left … (definitely some draft horse blood there …)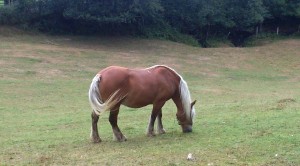 Continue right on a tarmaced road, and that will take you past the rather grand Chateau Bouton.
It has a lovely old spring below it …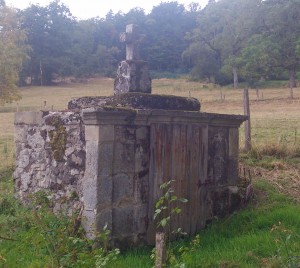 The chateau itself…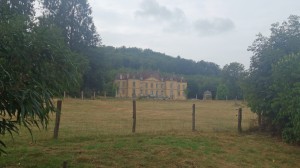 And some fancy outbuildings …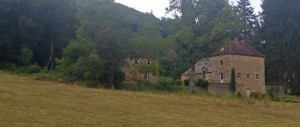 Continue straight along the tarmacked (which twists and turns), past Le Grand Verney (which is a few houses), then continue on past the path to Monthelon towards Vourain.
Just before Vourain, I met this friendly local …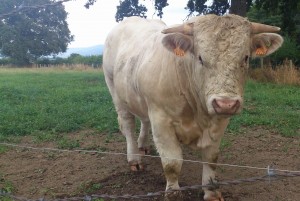 Watch out for some lovely flowers in the hedges along here …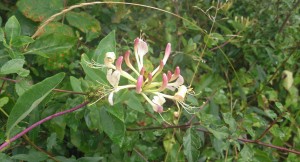 Just after him, if he's home, there's a clear if rough fenced dirt road leading off to your right (there's a handy French "turn right" walkers' mark on the tree before it). It starts to head uphill (there's a lot of uphill after this)..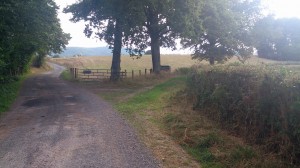 …then there's a confused four-way intersection at which you want to again follow the walkers' mark, heading uphill to the right, not to Les Boulets (as the other uphill route is signposted).
You'll know you're going the right way when you get to this signpost …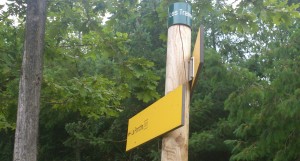 You're now going to climb, and climb and climb, frequently at 45 degrees or so, but there is an excuse for a breather about halfway up with a fascinating ruined farm on the left. There's the farmhouse, now almost totally overgrown …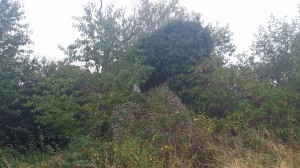 And an old pear tree, still yielding magnificently …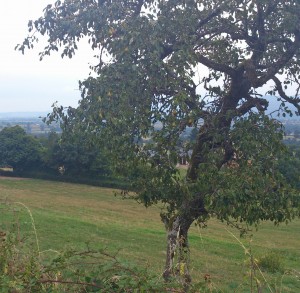 (There might have been a few less pears on it after I left had there not been a big clump of brambles between me and it …)
On the left as the track starts to level out the map says you're at Le Cerisiers, and there's a big grove of trees not seen elsewhere along the route that may well be cherry trees.
Finally you crest the hill and get to a plateau and a rather fascinating field, which looks like it's been carved out of the pines – a sign perhaps that their march is finally on the turn?
Then you begin your descent into La Grande Verriere – pretty well as steep as the ascent. This is marked as a mountain bike route – I'd imagine Autun hospital is well acquainted with broken collar bones.
On the left are some unusually large, soaring pines, broader spaced than usual and unusually impressive, but also some lovely glades of scrub like this …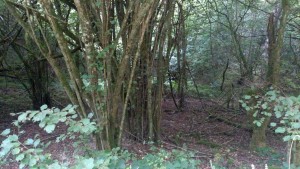 Finally you'll get back to the road, at which you turn left and La Grande Verriere is about 10 minutes away.
I'd recommend at this point an ice-cream at Cecile's – you'll have earned it! (The map from the mairie, which I was more or less following, Circuit No 3, says this is 9.5km. Seemed to me a bit longer, but that's probably age… took me about four hours with lost of dawdling and picture taking, but you could certainly do it in three.)