The idea of building a new medieval castle, using entirely medieval methods – it's one of those strokes of initiative that either disappears into a mire of debt, cost-overruns and recriminations, or works out brilliantly.
At Guedelon, 27 years after the project commenced, it's clear that the latter is the case.
There's what looks very like a well-on-the-way-to-finished castle (scheduled completion date 2024) …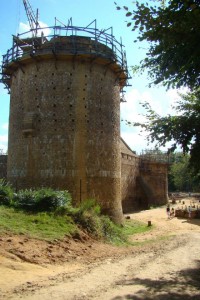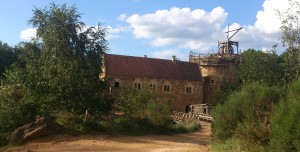 And here's the final plan…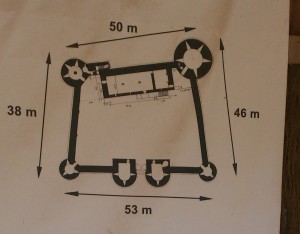 We can thank, ultimately, King Philippe II of France for this: he standardised designs of castles along these lines around all of his kingdom – Ratilly and Druyes-les-Belles-Fontaines are two surviving examples in this region.
Some facts and figures: the great tower is 28.5 metres tall; the final construction will have 28,000 (all handmade) tiles, the total weight will be about 60,000 tonnes.
But work is still going on every day – here's some water being hauled up to the masons …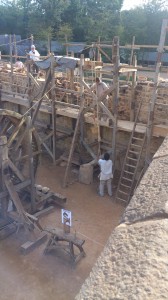 The whole thing feels impressive authentic. There are some modern concessions – everyone wears steel-capped boots (probably hard to justify crushed/amputated toes today) and there are some (cloth-covered) hard hats around, I guess for the stone-lifting, but otherwise the buckets are of wood, the lime is made on site (with the different mixes – for mortar and render) written on the walls to remind the masons.
Oh and there are safety googles – but all the labour is by hand … the rough shaping …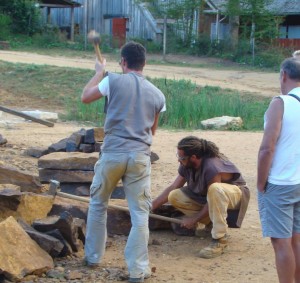 And the final finishing …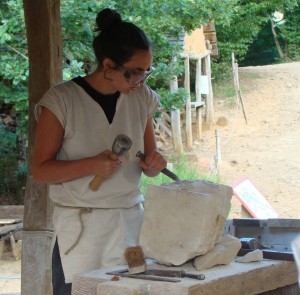 Here's what must have been some of the early work, above the kitchen door – not sure if the lintel and arch combined as a second thought or just for extra strength – there's a great hall on top of this…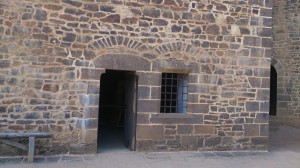 And here's what the kitchen looks like inside: rather taken with the "shelves" slung with ropes, nifty design … and of course there's a bread oven beside the fire, and a spit for roasting the venison …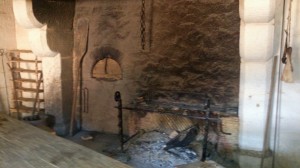 At the other side of the courtyard (lots of carrying!) is the well – essential in any siege-resistant castle. The chapel is on the floor above (not yet finished).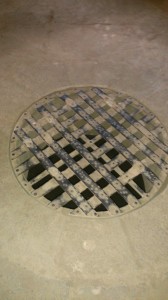 The quality of the workmanship is quite something to behold – when you actually see these being made in the workshops of the masons you appreciate the skill involved. (And they're also multilingual – had a good explanation from a mason as to why you use a totally rounded hammer rather than a square one: less energy to swing and less likely to bounce off if you strike slightly awry.)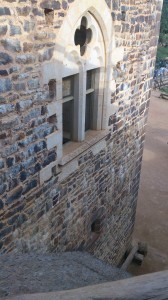 And within the castle itself, it looks like there's not been a nail used – all of the joints are secured with wooden pegs…
And the tools handmade too…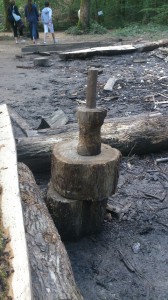 There are some nails used in the bridge across the moat, but certainly handmade…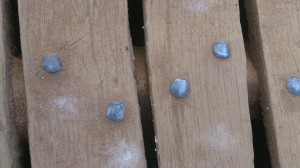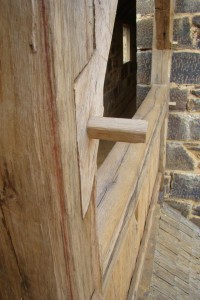 Including what I think is the hammerbeam roof in the great hall…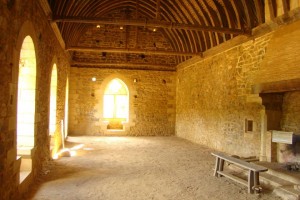 And the shingles are handmade…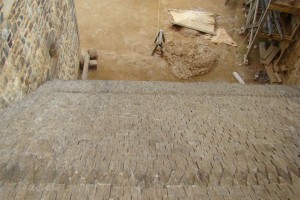 The small room off the wall is decorated in traditional style with natural ochres… and very attractive to0…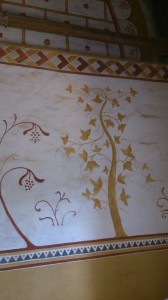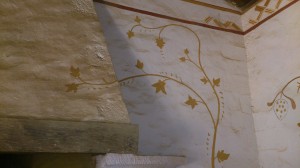 There's also the "village", where traditionally dyeing is under way, chickens are being reared in heavenlike conditions for chickens, and of course the "horsepower" lives…
And the veggies are grown behind a style of fence I'm thinking of trying to copy…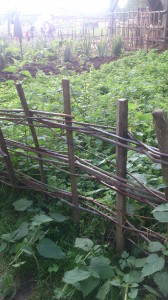 In short, an excellent place to spend a day. It now gets 300,000 visitors a year, but they spread out nicely…